High Efficiency Air Conditioners
We carry the best of all whether they are the home comfort heating product or cooling products. To fly above mediocrity is why we've aligned ourselves with the most trustworthy and most wanted brands. Let's recall that Cosmopolitan Mechanical Services Inc. is the premium dealer of Lennox and a certified dealer of renowned brands like Rheem & Amana. In addition to these three, we carry Central Air Conditioner products of York and Carrier as well. All these brands are one of the most used brands in the GTA and the most highly rated too.
Before we move to the brands, have some quick tips on what to consider while buying a central air conditioning product;
Tips to consider when buying Air Conditioner
Research:
Make a quick research before choosing a brand. The internet has made things super easy. See what offers does the brand offer and what qualities does your prospect product holds.
Check reviews:
People who have used the product can help you decide whether or not to buy that. An easy way to see what people think is to check out the product reviews.
Don't save unwisely:
Saving unwisely is to buy a low-quality product just because, it is cheap. This is totally unwise since such products will cost you more in repairs and maintenance. To save your time, we've gathered together the products that are both of top rated brands and are positively reviewed by the buyers. Below are the details of Central Air Conditioner products that we carry. Lennox High-Efficiency Central Air Conditioners Amana High-Efficiency Central Air Conditioners Rheem High-Efficiency Central Air Conditioners Carrier High-Efficiency Central Air Conditioners York High-Efficiency Central Air Conditioners Please note that the products displayed are not the only products we have. We carry almost all products of all the top brands. If you don't find what you were looking for, give us a quick call at 1-855-245-4328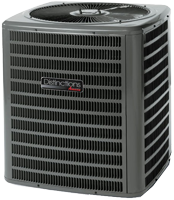 Amana Distinctions
Amana launched its Amana Distinction products that are a little different than..
Manufactured by Lennox